It is known that Nayanthara acted as the heroine in Shahrukh Atlee's movie Jawaan. Nayan received a box-breaking hit with her bollywood entry. kollywood talk is that Nayanthara is upset about the film even if it is a hit on her account. That is why Nayanthara played the role of Narmada Roy in the movie Jawan. Along with Nayanthara, deepika padukone also acted in the film.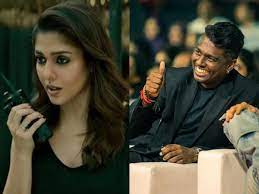 Nayan's role in the film became very small as the director of jawaan cut Nayanthara's role. But Nayanthara was very upset as she did not have any information on this matter. That is why Nayan was not seen anywhere in jawaan promotions. Finally, Nayanthara did not participate in tamil promotions either. But on the one hand, while there are such news among Nayan Atlee, on the other hand, there is no truth in the news about nayantara being upset about Jawan, and she is happy to have a screen share with Shah Rukh. 
Moreover, recently she made an entry on Instagram. Nayanthara is excited to do more challenging roles in a happy family career with a handful of films. After jawaan, there are several opportunities coming from bollywood, but Nayan is thinking of doing the rest of the films only after she completes the tamil films she is currently committed to.  Bollywood audiences have missed Nayan's performance for years. But that also happened with Jawan.

మరింత సమాచారం తెలుసుకోండి: