Romantic ways to celebrate Rose Day With Your Partner!!!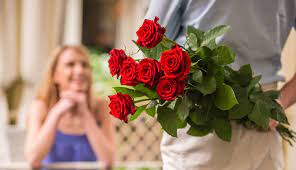 HAPPY ROSE DAY: The celebration of Valentine's Day on february 14th makes the month of february officially known as the month of love. 
Valentine's Week is the week leading up to this particular day, and each date is marked by a romantic act for that someone special in your life. 
Valentine's Week begins on february 7 with the commemoration of Rode Day.
Couples celebrate the day by spending time together and giving flowers as the name says to show their love. Here is a list of a few suggestions for how you can celebrate Rose Day with your partner if you want to surprise them.
There is no excuse for you not to give your lover a rose on Rose Day. 
Purchase crimson flowers because they symbolise intense passion and love. Purchase a bouquet for them and include a message expressing your emotions. You may try making a bouquet of roses in various colours to emphasise the significance of each colour to you.
Enjoy the day by going on a romantic date with your significant other. 
Wearing red clothing or a boutonniere or corsage with a rose might add a rose to the motif. women might also decide to embellish their hairstyle with a rose blossom. The simple things really do matter and show how much you care.
Give them amenities like shower gel, shampoo, perfume, rose water, and cosmetic packages that contain roses. Due to their pleasant scent and calming qualities, numerous manufacturers provide a rose variety of self-care and pampering items.
మరింత సమాచారం తెలుసుకోండి: