Turkey syria Earthquake: Woman gave birth...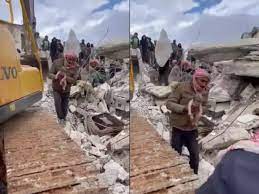 The 7.8 magnitude earthquake that hit turkey and syria on monday turned thousands of houses into a pile of rubble. More than 5,000 people are estimated to have died in the buildings that collapsed due to the earthquake. Rescue operation is going on in both the countries. Dead bodies are being pulled out from the pile of debris. While removing every piece of debris, there is a hope of finding someone trapped alive inside, but the debris breaks as soon as it is removed. However, in the midst of this breaking hope, some lucky ones are also being found in the debris, who have lost everything in the earthquake, but have miraculously survived. Everywhere, crying eyes calling out to the mother are visible, and somewhere heaps of dead bodies emanating from the debris. A lot of videos and photos of rescue operations are being shared on social media, which can bring tears to your eyes.
A woman trapped in the debris gave birth to a child
A heart-wrenching video has also emerged from Syria's largest city, Aleppo. The twitter user who posted the video has claimed that a pregnant woman trapped in the debris after the earthquake gave birth to a child. The rescue team made a tremendous effort by removing the debris to reach it, but the woman died before reaching it. According to reports, after finding the newborn child of the woman who had fallen down somewhere in the debris after delivery, has been rescued alive. people said, this rescue is showing the victory of life over death.
మరింత సమాచారం తెలుసుకోండి: