Big headache due to this villain in Leo film..!?

Lokesh's Vikram-style Leo is being made with a multi-starrer cast. Vijay, Trisha, arjun, Mysskin, gautham Menon, Sanjay Dutt, priya Anand, and many other celebrities are acting in the movie. The initial phase of Leo was shot in Kashmir. In this case, Vijay has canceled the hyderabad shoot and now the shooting of Leo is going on in Chennai. That is, the sets are being set up in Vijay's house and Prashanth's studio.


Also, while the shooting of Leo is expected to be completed quickly and the final work will be done, there are still 40 days of shooting left. That means the villain actor is said to be the reason behind the delay in the shooting of Leo. Action king arjun plays the main villain in this film. And the production house released the official announcement of Arjun's acting along with the photo. But since arjun did not participate in the shooting, doubts arose among the fans about whether Leo is acting in the film.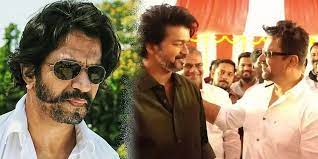 But Arjun's potion has not yet started. arjun has given a 40-day call sheet for Leo. So it seems that the shooting of Leo movie is more than 40 days. And Arjun's Leo shooting is getting delayed. Due to this, lokesh is having a headache. From this, it seems that arjun will not be participating in the shooting of Kashmir, so his scenes will be very few. arjun can also be expected to participate in the shooting in Chennai. An update about Leo movie will be released soon.

మరింత సమాచారం తెలుసుకోండి: