Shock for hyderabad Metro commuters..!? Paid Toilets..!?

Hyderabad Metro officials shocked commuters. He said that if you want to go to the toilets in the metro stations, you will have to pay money. hyderabad Metro officials gave a big shock to the commuters. Those who want to use the public toilets in metro stations will have to pay more, he said. It has been decided to collect user charges from those who use the toilets since June. It has been announced that Rs.5 will be charged for the toilet and Rs.2 for urinating at the station. Public toilets are available only in some metro stations. So far no charges have been levied for using them. But from now on they will collect money. With this, the latest decision is going to be more burdensome for lakhs of commuters who are already struggling with the reduction of metro fares.

It is well known that the metro authorities have increased the fares. However, passengers traveling with contactless smart cards and QR codes are getting 10 percent discounts on fares till now. While this discount is limited to non-peak hours only... Similarly, the Super Saver offer has also increased the fare to Rs.100.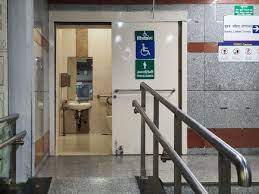 It offers unlimited travel for just Rs.59 on marked holidays. hyderabad Metro authorities have been looking for revenue streams for some time now. Proposals have been sent to increase metro fares. With this, it has been decided to collect parking fees in metro malls focusing on alternative routes. They have decided to charge money if they use the toilet fresh. This charge is going to be more burdensome for Metro passengers.
మరింత సమాచారం తెలుసుకోండి: