Happy Birthday Sundar Pichai : Billionaire's Journey!!!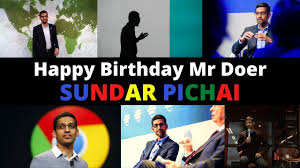 Today marks the 51st birthday of Sundar Pichai, the CEO of Alphabet Inc. and its wholly owned subsidiary Google. The corporate leader, who was born in Madurai, tamil Nadu, in 1972, has a motivating success story associated with his name.
Pichai graduated from IIT Kharagpur with a degree in metallurgical engineering before relocating to the united states to obtain a master's degree in materials science and engineering at Stanford University. He later earned an MBA at the university of Pennsylvania's Wharton School, where he was recognised as a Siebel Scholar and a Palmer Scholar, respectively. Pichai started working for google in 2004 and was made CEO in 2015. But getting there wasn't simple. 
Pichai's father worked as an electrical engineer for a british multinational when he was growing up in tamil Nadu, India. Additionally, Pichai's father owned a factory that made electrical components.
Pichai joined McKinsey & Company after travelling abroad and completing his education, where he worked in management consulting, engineering, and product management at Applied Materials. However, he joined google in 2004, where he quickly became well-known for the success of Chrome. Pichai was in charge of the creation of several google client software products, such as Chrome and Chrome OS. google Drive was also primarily his creation.
మరింత సమాచారం తెలుసుకోండి: