Kalpana Chawla's father died at the age of 90...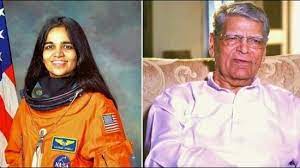 The father of the late Kalpana Chawla, India's first female astronaut and aerospace engineer, Banarasi Lal Chawla, passed away on tuesday at a local private hospital following a brief illness. He was 90. According to the family members, Chawla was recently admitted to the Amritdhara hospital in Karnal and passed away on tuesday morning. They added that, in accordance with his last wishes, his body would be donated to the Kalpana Chawla Medical college in Karnal.
Numerous Karnal locals and family members visited their home to offer their condolences. Kalpana Chawla, who was born and raised in Karnal, became the first indian woman and the second indian in history to travel to space. She graduated from Tagore Bal-Niketan school in Karnal in 1976 and enrolled at punjab Engineering college the following year to pursue a bachelor's degree in aeronautical engineering. After that, she relocated to the US to pursue a master of Science in aerospace engineering at the university of texas at Arlington. In 1988, the university of Colorado awarded her a PhD.
At the age of 41, she passed away on february 1, 2003, just minutes before landing, when the Space Shuttle Columbia exploded over texas during its re-entry into the atmosphere. Manohar Lal Khattar, the chief minister of Haryana, also sent his condolences. "Sad news regarding the passing of Mr. Banarasi Lal Chawla, the father of Kalpana Chawla, a resident of Haryana. He allowed his daughter the freedom to dream big and strive for the stars, which helped india gain international acclaim and served as an example for other fathers' daughters. I ask god to comfort the departed soul and give the grieving family courage," Khattar wrote on his X account.
మరింత సమాచారం తెలుసుకోండి: