Are you safe? Check your mobile SAR Value-Part 2...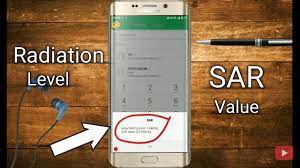 How much SAR value of the mobile is safe?
Telecom Authority of india has considered the SAR value of 1.6 W/Kg from mobile phones as safe for 1 gram of tissue. This means that any phone having a SAR level below 1.6 W/Kg is safe and the chances of getting cancer are negligible.
How to check your phone's SAR Value?
If you want to check the SAR Value of your phone, then there is a very easy way for this. You have to check the label on the packing box of your mobile phone. This value is written on it. In some phones, this value is also written on the inside of the back cover by putting a label on it. Apart from this, some mobile companies have posted the SAR Value of each of their phone models on their websites. In the case of buying a mobile phone from an e-commerce website, you can get information about SAR Value in the phone specifications.
Get information from 3 steps on the phone
Open the dial app of your Android mobile phone.
After typing *#07#* code in the dialer press the call button.
After this, the SAR value of the phone will appear on your screen.
This is how you can protect yourself from phone radiation
Keep the mobile phone away from the body.
Use headphones to listen or make calls.
Make limited use of mobile phones.
Do not use the phone when the battery is low.
Do not use the phone even when the network signal is weak.
మరింత సమాచారం తెలుసుకోండి: