Didn't expect such a review for Liger..!? Worldwide Promotion..!

Actor Vijay devarakonda is a boxer in the movie Liger. The film is produced by karan johar under the direction of popular telugu director puri Jagannath. The film has been made simultaneously in telugu and Hindi. It is also released in Tamil, telugu, Malayalam, etc. bollywood actress ananya pandey has played an important role in Liger. Actress ramya krishnan plays the role of Vijay Devarakonda's mother in the film. She is given a weighty character like Neelambari and Sivakami Devi in the film.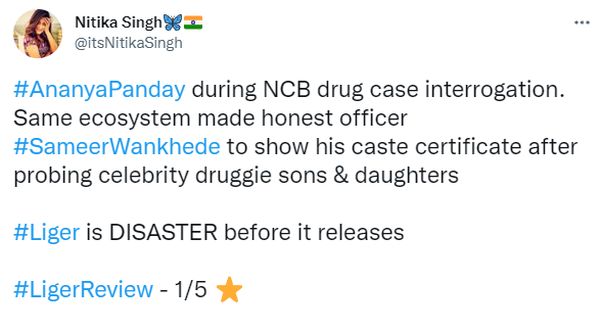 And former boxing world champion Mike Tyson has also acted. While the poster of the film has created controversy, the trailer has increased the expectations of the fans. In this case, Liger is releasing on august 25, and the promotion work is going on in a big way.
Hindi celebrities who watched the preview show of the film are sharing their views. However, it is said that some bad scenes and bad words have been used in the film. It is in a way that makes viewers feel disgusted. And celebrities have given the film a low rating. Due to this, before the release of the film, negative reviews started coming for the film Liger. And it is said that the third song has been released in the film and it has a lot of meaning.
Due to this, now this film is failing to attract celebrities. It is also doubtful that this film, which has received such reviews even before its release, will attract fans. It will be known after the release of the film whether this film will give the expected success to Vijay devarakonda, who is making his debut in the hindi film world for the first time.
మరింత సమాచారం తెలుసుకోండి: