Vijay wants only money and fame from them..!?

The media is asking questions about this whether Vijay only wants fame and money what they gave. Recently there is a lot of news about Vijay in the media. He is acting in the film Leo directed by lokesh kanagaraj, but he is facing some controversies even though he has created expectations about the film. Currently, some media are criticizing him badly and leaving him hanging. That is, recently the 95th Oscars ceremony was held in a grand manner. In it, the Naatu Naatu song featured in Rajamouli's rrr film to make our South indian cinema proud won the Oscar. Similarly, a short film shot in tamil Nadu's Mudhumalai also won the oscar for Best Documentary.

The entire film industry is celebrating it with pride. And all the actors and actresses are congratulating the crew. But only Vijay did not express any congratulations on this. This is the one that has come under heavy criticism. And the telugu media is criticizing it harshly. Because recently he acted in the telugu producer-director alliance Varisu.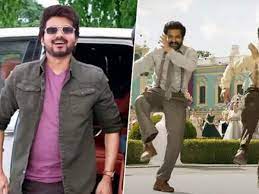 Through this, he wanted to increase his market in that state and get a good collection of his films there. That's why everyone knows that he is paying a bit more attention to the telugu film world. In such a situation, a telugu film has won an Oscar. While everyone is celebrating it, only Vijay's silence on the matter has raised some questions. Also, a telugu film has won such a high award, don't you see it, the media is asking questions about this, asking if he only wants fame and money from them. Apart from that, they are also copying whether Vijay is jealous of the telugu film winning the Oscar.
మరింత సమాచారం తెలుసుకోండి: