Sonam Kapoor shares photo with Vayu on mother Sunita's birthday, Anil tells wife- 'blessing'
Actress sonam kapoor shared many pictures with her mother Sunita Kapoor on her birthday. anil kapoor has also showered love on his wife on this occasion. Let us show you.
Actress sonam kapoor is in london these days with her husband and son. Where she is connected with her fans through social media. Today i.e. on march 25, 2023, the mother of the actress Sunita Kapoor is celebrating her birthday. Sonam has written a lovely birthday note for him on this occasion.
Sonam Kapoor wished mother Sunita her birthday
In fact, on march 25, 2023, on the occasion of the 58th birthday of her mother Sunita Kapoor, sonam kapoor shared a series of pictures from her insta handle. Sharing the photos, he called his mother the 'best grandmother'. In one picture of Sunita, she can be seen holding her grandson Vayu in her arms, just as she is seen holding Sonam in her arms in another picture. Please tell me that Sonam gave birth to Vayu in august last year.
Wishing her mother pictures, Sonam wrote, "Happy happy birthday mama, love you the most." There is nothing better than your love, sitting on your lap and surrounded by your love and care. I will always feel like a child in your presence and I am so grateful for that. love you momma #bestnani #bestdogmom #bestmom #supermom #spiritualgangster #hostesswiththemostess #wifegoals #momgoals."
Anil Kapoor lavished love on his wife Sunita's birthday
Anil Kapoor has also shared some old pictures with Sunita on his instagram with a message. The first picture shows the couple raising a toast at a party. There was also an old black-and-white photograph of the two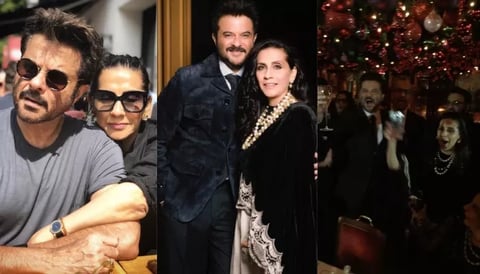 Along with these photos, Anil wrote in the caption, "The biggest blessing for me, my beautiful wife was born on this day...! Sunita, life with you has been nothing less than a dream. A dream that I live every day." Lucky to have you! Thank you for being my dream partner/friend/wife/girl of my dreams and always…. Happy birthday my love!! @kapoor.sunita."
Riya Kapoor also wished her mother on her birthday
On the occasion of Sunita's birthday, her younger daughter and producer-stylist rhea kapoor started shooting for her next film 'The Crew'. It stars Kareena Kapoor, Tabu, and Kriti Sanon. Sharing a picture from the mahurat shot, Rhea wrote on instagram, "Is this real life!? First day on @kapoor.sunita's birthday with blessings from my Nani! Happy birthday, mom I couldn't be here without you! I love you!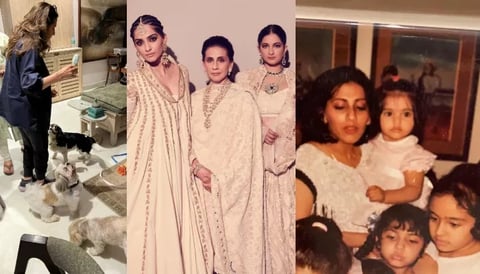 For the time being, we also wish Sunita Kapoor a lot on her birthday. So how do you like the photo of mother Sunita with son Vayu shared by Sonam?
మరింత సమాచారం తెలుసుకోండి: