Manoj Bajpayee had lost his heart on his wife Shabana Raza in the very first meeting, told the story
Recently, actor manoj bajpayee talked about the beginning of his love affair with his wife Shabana Raza aka Neha, and recalled their first meeting.
Bollywood actor manoj bajpayee is known for his realistic and excellent performance. The character of 'Sardar Khan' played by Manoj in Anurag Kashyap's iconic film 'Gangs of Wasseypur' is still alive in people's minds. Amidst all this, he is a very private person who prefers to keep his personal life away from the limelight. Recently, Manoj talked about falling in love for the first time with his wife Shabana Raza aka Neha.
Manoj talks about their love story with Neha
In his recent conversation with Humans of Bombay, Manoj admitted that he is not a romantic person at all, but his love with Neha was "love at first sight" for him. The actor revealed that he met Shabana (Neha) at Hansal Mehta's party. Talking about this special evening, Manoj said, "I was completely mesmerized. Not only on her beauty but also because she was at such a big party with oiled hair, not caring what other people would say to her.
Taking his point further, the actor said, "Actually I was impressed by her real personality more than her beauty." After this, after meetings and dating each other for some time, the couple got married in the year 2006. Had taken Sharing his thoughts on love, Manoj said that love is difficult and for a solid relationship like marriage, one has to let go of one's ego. Manoj Bajpayee's Personal Life: The actor has done two marriages,  
Who is Manoj's wife Neha?
For information, let us tell you that the real name of Neha, the wife of actor manoj bajpayee, is Shabana Raza. Once in an interview given to 'Hindustan Times', Neha told that her first meeting with Manoj happened just after the film 'Kareeb'. Since then he is with her and is enjoying his married life.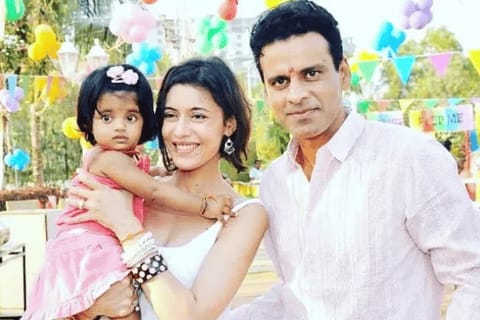 Manoj Bajpayee's work front
Talking about Manoj's work front, he was recently seen in the film 'Gulmohar', which also featured sharmila Tagore, kaveri Seth, Amol Palekar, and Suraj Sharma in pivotal roles. At the same time, after winning the hearts of the fans for two seasons of 'The Family Man series, he is now ready for the third season as well.
మరింత సమాచారం తెలుసుకోండి: