Then Bumrah...Now who? Actress Announces Engagement..!?

Malayalam actress Anupama Parameswaran's post mentioning that she is engaged has been trolled by netizens. anupama parameswaran made her acting debut in malayalam with the blockbuster hit Premam, which was released in 2015 and was directed by Alphonse Putran. After the success of Premam, Anupama got many film opportunities. After that, Anupama made her debut in the tamil film Kodi starring actor dhanush and then moved to Tollywood.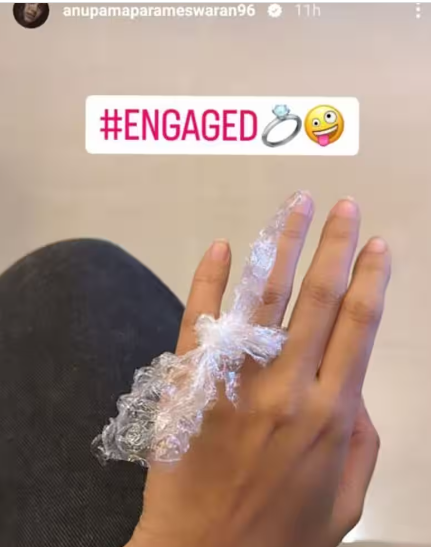 There, Anupama got successive film opportunities, and now she is crawling as a popular actress in Tollywood. Anupama, who used to act only in homely roles, has started acting in glamorous roles after moving to Tollywood. anupama parameswaran has given a shock to the fans by acting as an assaulter in liplock scenes. In that way, controversy arose that Anupama was in love with cricketer Bumrah. Rumors of love between the two of them are so wild that bumrah is going to marry her at some point. Later, Anupama's love controversy ended only after bumrah married his girlfriend Sanjana. In this situation, Anupama's fans are trolling her after seeing the photo posted on instagram stating that she is married. The netizens who saw the photo Anupama posted that she was engaged and wore a plastic cover in her hand like a ring, are questioning, Did she do the same thing, then Bumrah? Who is it now?
మరింత సమాచారం తెలుసుకోండి: