Taimur ali Khan 'Mamu' was surprised to meet Ranbir Kapoor's daughter Raha, the little Nawab kept staring
Actress kareena kapoor Khan's son Taimur ali Khan was in awe after meeting his maternal uncle ranbir kapoor and alia Bhatt
One of Bollywood's favorite couples, Taimur ali Khan, the elder son of kareena kapoor Khan and Saif ali Khan, is a loving big brother. Firstly, it was Taimur's bonding with his cousin Inaaya Naumi Kemmu that won our hearts and then his immense love for younger brother Jehangir ali Khan grabbed everyone's attention. Now, he has another sister on whom the younger Nawab sacrifices his life, yes it is none other than Raha Kapoor, daughter of his maternal uncle Ranbir Kapoor.
When Taimur met sister Raha for the first time, the younger Nawab kept staring
According to a report in 'The Times of India', alia bhatt took her six-month-old daughter Raha Kapoor to kareena kapoor Khan's house. This was the first time Timur met his younger sister Raha. A source close to the family revealed that Taimur is a serious and responsible elder brother. He meets Raha for the first time and is infatuated with her as soon as he sees his younger sister.
The source further revealed that Taimur sat beside his younger sister Raha and kept looking at her. He didn't let anyone come close to him. Interestingly, Ranbir and Kareena were never close and maintained a distance even after their debut in the film industry. However, the siblings are making sure that they share a strong bond.
When alia bhatt reached Kareena's house with daughter Raha in her lap
On 3 june 2023, alia was captured by paparazzi stationed outside Kareena's house in Mumbai. In the clip that is going viral on the internet, alia is seen twinning with her baby girl Raha in a white outfit. He is holding his daughter Raha in his arms. The little girl was sleeping peacefully in her mother's arms. alia made sure to hide her daughter's face as soon as she entered the building.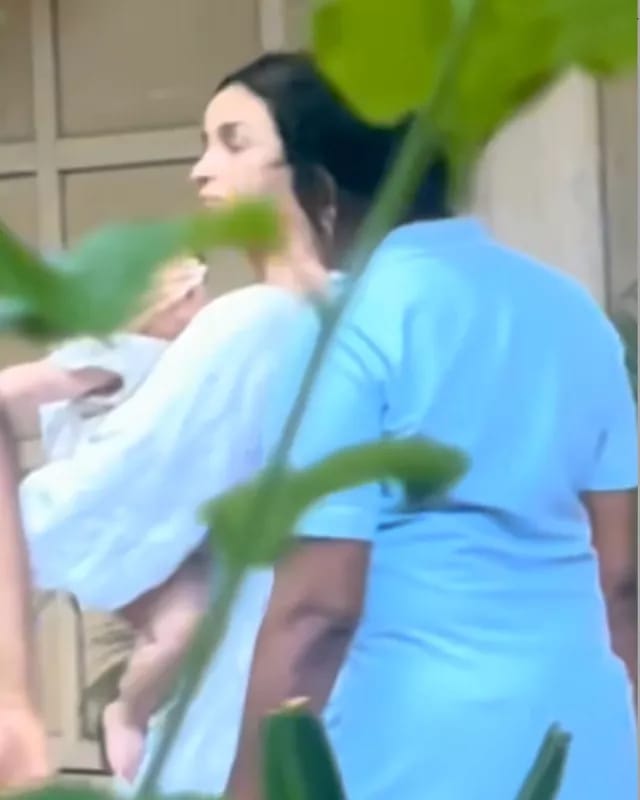 When alia bhatt was spotted with their daughter
Earlier, on 1 june 2023, alia was seen outside her house in Mumbai. In the video that surfaced, alia, dressed in a white T-shirt and fitted pants, was holding her daughter Raha in her arms. The little girl was sleeping peacefully in her mother's lap and Aaliya hurriedly walked toward her home
మరింత సమాచారం తెలుసుకోండి: