Sam in the pub with that hero..!?

Tollywood heroine Samantha's career is booming. We all know the popularity of the family man series. But with this series, samantha got closer to the hindi audience. Now it is trying to entertain more with another upcoming series "Citadel". But before these web series, immediately after her divorce, she danced to the song Oo Antava Ooo Antava in the movie pushpa and shocked everyone. But that song became a super hit. Samantha's craze increased with that song. samantha has recently stepped once again to this song that gave her so much craze.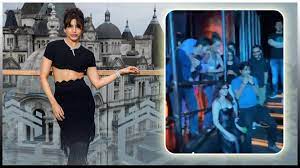 The Citadel shooting is currently taking place in Siberia. She went there for that and went to the pub there along with the film crew. In that pub, she danced her steps with varun dhawan to the song Oo Antava Uhu Antava. Meanwhile, samantha is also doing a hollywood project called chennai Story. She seems to be doing more hollywood projects as well. It seems that auditions are also being given for it. In hollywood, it is common for big directors and production houses to ask star actors to send audition tapes for specific roles. It seems that samantha also gave auditions.
On the other hand, the shooting of samantha Khushi's film has been completed recently. This movie is directed by siva nirvana and Vijay devarakonda is playing the hero. This movie is ready for release soon. Earlier, samantha acted in the movie majili directed by Siva Nirvana. The movie became a blockbuster hit.

మరింత సమాచారం తెలుసుకోండి: