'OMG 2' starring akshay kumar will now be available on OTT following its wildly successful run at the box office. pankaj tripathi and yami gautam play significant parts in the film. 'OMG 2' will now be available on Netflix after a successful theatrical run.  On october 8, 2023, Netflix will debut Akshay Kumar's 'OMG 2'. The film, which was directed by amit Rai, has an impressive ensemble cast that includes yami gautam, pankaj tripathi, and Akshay Kumar. It creates an amazing cinematic experience by fusing comedy and deep subjects.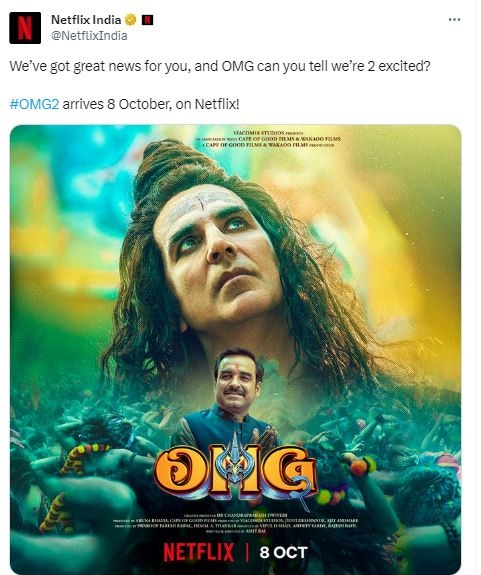 Akshay Kumar states, "We are pleased by the tremendous welcome OMG 2 has gotten in theatres, and we can't wait for it to premiere on Netflix! We are certain that by partnering with Netflix, we will be able to bring this narrative to viewers all around the world who like entertainment. I hope our labour of love will continue to bring others delight.
'OMG 2' is a follow-up to the popular 2012 film 'OMG: Oh My God!' and continues the theme of questioning social prejudices and naive faith. For its complexity and sensitivity, Kumar's performance has received praise. OMG 2 is written and directed by amit Rai and is presented by Viacom18 Studios in collaboration with Cape of Good Films and Wakaoo Films. Aruna Bhatia, Jyoti Deshpande, Ajit Andhare, Swaroop Paresh Rawal, hema A. Thakkar, vipul D. Shah, Ashwin Varde, and Rajesh Bahl are the producers of the picture.







మరింత సమాచారం తెలుసుకోండి: