Urban Development minister Eknath Shinde has been missing in the uddhav thackeray government of the state since the results of the Legislative Council elections in Maharashtra. It was discussed since evening that Shinde, the important leader of shiv sena, is not in touch with anyone. The news of Tuesday's Subar Eknath Shinde being in surat came and since then the speculations on the future of maha Vikas Aghadi government of maharashtra also started. However, the question is, what happened suddenly that Eknath Shinde reached the surat hotel with the MLAs.
Shinde, one of the senior shiv sena leaders, and chief minister uddhav thackeray reportedly got into a tussle over the Legislative Council elections. However, on the foundation day of shiv sena, there was a good rapport between the two. Two and a half years ago, Eknath Shinde's name was in the race for the post of chief minister but the political equations changed and uddhav thackeray himself became the CM. 
1- Good relations with BJP
Thane district is a stronghold of Eknath Shinde. Eknath Shinde has good relations with Rashtriya Swayamsevak Sangh (RSS), Devendra Fadnavis. He wanted shiv sena to go with BJP. His son Shrikant Shinde is an MP. He also wants to pursue his son's career. Eknath Shinde has the Urban Development Department. But this department did not make much profit in terms of money. When a leader starts growing in stature in shiv sena, he is hacked. With anand Dighe What happened happened with Eknath Shinde as well. Eknath Shinde has good relations with Devendra Fadnavis.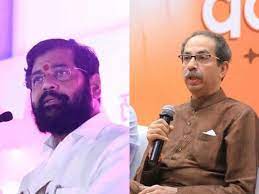 2- Annoyed at not getting credit despite working?
A few days ago, minister Aaditya thackeray was on a ayodhya tour. The tour was managed by mp sanjay raut and Urban Development minister Eknath Shinde. Despite being an important leader of the party, Eknath Shinde did not address the workers on the foundation day of shiv sena, did not say anything. shiv sena leaders are constantly talking about bjp, talking about use of central investigative agencies . sanjay raut also expressed his displeasure.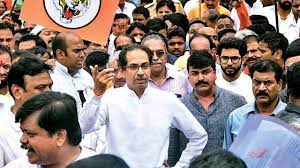 3- Doubts not resolved
Chief minister uddhav thackeray was not available at the time of his illness and corona. Eknath Shinde was always looked upon with suspicion. sanjay raut talks to the media every day but he is not an elected leader. The chief minister stayed at home for a long time due to illness. An opposition party like bjp is in front. In such a situation, Eknath Shinde should be given a big responsibility. shiv sena was initially opposing the Samridhi highway. But Eknath Shinde never commented on the project. After coming to power, Shinde completed the highway work in record time. He is credited for this work. Desai said that Shinde also has cordial relations with bjp leaders.
4- Sadness of not being able to become Chief Minister
Eknath Shinde's name was for the chief minister's post, but when uddhav thackeray was made the cm, his name was left behind. It was a matter of disappointment for him. But he accepted it. Eknath felt at that time that the damage was done. Eknath Shinde has the support of MLAs. The MLAs who are in support of him complain that they do not get funds for work and they are unable to get their work done. This is the reason why these angry MLAs are supporting Shind
మరింత సమాచారం తెలుసుకోండి: