India-China Border:Patrolling is not happening at 26 points...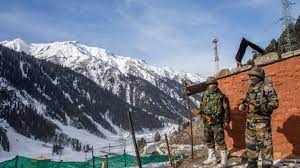 The indian army is not patrolling around 26 patrolling points. india has now lost its authority on 26 patrolling points out of 65 patrolling points. Before May 2020, india used to patrol at all 65 patrolling points. There are 65 patrolling points from Karakoram Pass to Chumar, which are patrolled by indian security forces.
 It is being claimed that india is not patrolling in these areas. indian citizens and indian Security Force (ISF) have not been seen here. people of china are present in these areas. This is a change in the position of the indian Army. china calls such areas as buffer zones. This ploy of PLA to grab land inch by inch is 'salami slicing'. The important thing is that now the army is also admitting it.
China knows the use of buffer zone very well. china monitors the indian army from these areas. The People's Liberation army (PLA) has installed cameras on the highest peaks, strengthening China's position in the buffer areas. Every eye of china is on the indian Army. This is a violation of the deescalation talks but china is not bothered. In as many as 26 out of 65 places, indian soldiers' patrolling is limited or has been "no patrolling."
మరింత సమాచారం తెలుసుకోండి: