UK PM Rishi Sunak intends to rearrange his cabinet, Why?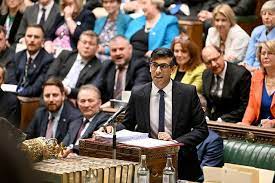 In an effort to reset his premiership after a tumultuous first 100 days in office, UK prime minister Rishi Sunak is to conduct a mini-reshuffle of his cabinet as early as Tuesday, according to persons familiar with the negotiations.
After dismissing Nadhim Zahawi over a tax issue more than a week ago as part of a larger upheaval, authorities informed cabinet ministers on monday that Sunak will name a new chair for the Conservative Party.
The Department for Business, Energy, and Industrial Strategy has been the subject of discussions between officials and ministers in recent days, a source said. Sunak made this suggestion during the leadership round the previous year.
The action is being taken as pressure mounts on Sunak to reconsider his choice to name Dominic Raab as his deputy prime minister and justice secretary. Raab has subsequently been the subject of a probe into charges of bullying.
In most polls, Sunak's conservative party is trailing the opposition Labour party by almost 20 points, and with a general election loss in less than two years conceivable, there are growing calls within his own party for tax cuts.
The source claimed that the premier was dissatisfied with BEIS's work quality in recent years and took particular issue with its emphasis on energy, which left it less able to deliver big pro-business initiatives.
According to the source, one idea being discussed is the establishment of a stand-alone energy department with a secondary office devoted to commerce and trade and a third to research and technology. 
The departments of trade and culture may also be affected, they claimed.
మరింత సమాచారం తెలుసుకోండి: