Priyanka gandhi criticises the BJP...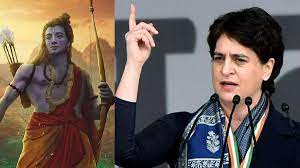 Congress leader priyanka gandhi has retaliated strongly on the allegations of familyism. In response to the allegations against her family, priyanka gandhi has asked the bjp that if you call us familyists, then who was Lord Ram? He followed his dharma towards his family, so was he a familyist? Pandavas fought for their family values so were they familyists? If our family members gave their lives for the country, should we be ashamed of it? The people of our family have watered this country with their blood.
Priyanka gandhi, who reached the Congress's Sankalp Satyagraha at Rajghat, attacked the bjp fiercely. He said, 'You call us familyists. Who was Lord Rama? He was sent to exile. He did his dharma towards his family, his land. Was Lord ram familyist? Were the Pandavas familyists? He fought for the values of his family.
'My family watered the democracy of this country with blood'
What should we be ashamed of given that members of our family sacrificed their lives as heroes for this country, she continued?, his blood is on this soil. My family has poured its blood into this nation's freedom. I insulted my heroic father in Parliament, according to priyanka Gandhi. The martyr's kid was known as "Mir Jafar." rahul gandhi reportedly doesn't even know who his parent is, according to the bjp chief? In Parliament, the PM challenges the "Nehru surname"? You are not being sued, and your version has not been terminated.
"My father was martyred for the country," priyanka gandhi said. This hero is denigrated in the nation's parliament. You label the martyr's offspring a traitor. In a parliament, your officials disparage my mother. rahul gandhi is fighting for the people of this nation, for you, for the women, and for the youth, according to congress President mallikarjun Kharge. fighting against inflation and unemployment.
మరింత సమాచారం తెలుసుకోండి: