CBN Arrest: tdp leaders protest in front of gandhi Statue..!?

TDP MPs and former MPs staged a protest at the gandhi statue in the parliament premises condemning the arrest of tdp chief Chandrababu. tdp MPs criticized the jagan government for murdering democracy in the state of Andhra Pradesh. tdp MPs and former MPs protested against the arrest of tdp chief Chandrababu at the gandhi statue in the parliament premises. They raised slogans like 'Save Andhra Pradesh' and 'We Want Justice'. tdp National General Secretary nara lokesh attended this protest event. On this occasion, mp Rammohan Naidu said... Chandrababu was arrested for abuse of power in andhra pradesh state. He accused the jagan government of making a mockery of democracy. He criticized jagan as a rich man who stole lakhs of crores by obstructing his father's authority. jagan has been accused of embezzling lakhs of crores of public money since taking oath as CM. It is alleged that it is wrong to illegally arrest Chandrababu who has not wronged anyone. The MPs commented that the people of andhra pradesh state are watching all day long and if the wrongdoers are roaming outside, then the innocents are inside the jail which is proof of the evil regime.

They asked who they think jagan is the number one corrupt person in the world. He alleged that no section of the state is happy because of Jagan's rule. He accused cm jagan of framing tdp leader Chandrababu with a criminal mind by creating a skill development scam without any conspiracy that if he harms the youth who have a questioning attitude, there will be no hindrance to his power. tdp mp Jayadev Galla spoke. 'TDP National President Chandrababu was arrested in andhra pradesh state without any evidence and kept in jail. This is a completely illegal arrest. The time has come for the central government to take note of what is happening in the state of Andhra Pradesh. "We will try to use every possible aspect to raise this issue in the parliament," said mp Jayadev.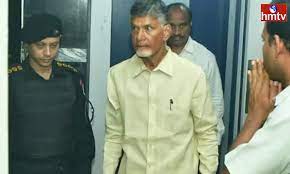 The tdp MPs criticized that anarchy and oppressive rule is going on in the state. jagan said that the midnight arrest was proof of the achievement trend of Jagan's party. He asked if the police did not remember the problem when they arrested Chandrababu Babu who said that there would be a law and order problem if mp Avinash reddy was arrested even if he was accused in a murder case. The MPs accused the police of troubling those who were protesting voluntarily and peacefully. The MPs asked the central government to focus on the situation in the state. He criticized that no such development was seen during the four years of Jagan's rule and that the people would teach him wisdom in the coming elections. The MPs revealed that they will raise a debate in parliament on Chandrababu's illegal arrest.
మరింత సమాచారం తెలుసుకోండి: