Reusable launch vehicle's(RLV-TD) landing test...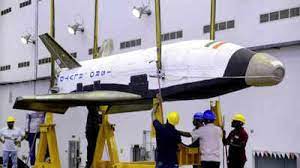 The Reusable Launch Vehicle (RLV-TD) of the indian Space Research Organization (ISRO) will be tested on Saturday.
what will be done on Saturday?
On Saturday, with the help of a helicopter, RLV-TD will be taken to a height of about 3 kilometres in space. Then, we will release this space shuttle from there. After this, it will be landed down with the help of the Guidance and Control System. Its landing will be done on the defence runway at Challakere, Karnataka. During this, an attempt will be made to understand the aerodynamics related to the landing of this shuttle.
The first successful test has been done in the year 2016
Its first successful test was done on May 23, 2016. In which, many important technologies of this mission such as autonomous navigation, guidance and control, reusable thermal protection system and re-entry mission management were tested. All these tests were successful. Then it was sent to a height of 64.8 km in space with the help of a special atmosphere booster rocket and from there it was rotated 180 degrees and landed on a virtual runway built about 500 km from the coast in the Bay of Bengal. Now its most special test is going to happen. This test is to land it successfully again like an aircraft on the airstrip.
మరింత సమాచారం తెలుసుకోండి: