Torture gave by Kamal to Mani Ratnam..!?

Kamal Haasan has taken a huge place in tamil cinema by showing his many talents. If that is the case, now the news of him being rude to mani ratnam is causing a stir. Kamal and mani ratnam alliance after 35 years. KH 234 is the upcoming film produced by Rajkamal Films International. They are planning to make the film as a gangster film. In this case, the world hero has more experience in cinema, so it is certain that he will present his opinion in the film. He keeps telling tricks he knows like changing the story like this and that.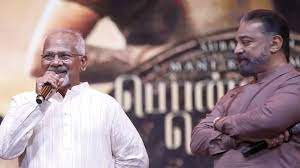 He will not show any bias to anyone regarding the story of the film. No matter how big the director is, Kamal will surely intervene in the story with his opinion. Our world hero is the one who gives the alternative commentary to the director. It is not known how mani ratnam is going to carry the film with this. And both of them have already teamed up in the film Nayagan. The film, which gave a huge hit, has become a name for Kamal to date.
Both of them will develop an understanding through the film. With that, Kamal will definitely give tips to mani ratnam in the film. Therefore, it is certain that Kamal's idea will definitely get a place in the film if it is a collaboration between them.
మరింత సమాచారం తెలుసుకోండి: