Kuno National Park is receiving 12 additional cheetahs...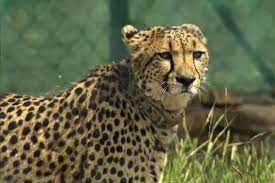 Whether Kuno National Park of madhya pradesh has liked the cheetahs that came from namibia till now or not. It is not clear yet, but the central government has made preparations to completely fill this area with the population of cheetahs under Project Cheetah. Under the Kuno Cheetah Project, 12 cheetahs have decided to come to Kuno from south africa in the next month i.e. february 2023. Even after this, cheetahs will continue to come to india from there year after year so that this big cat, which was declared extinct about 70 years ago, becomes the pride of indian forests in every situation. According to a Reuters report, for this, india and south africa have signed a new MoU under Project Cheetah, in which preparations have been made to bring at least 12 African cheetahs to the country during the next 10 years.
At present, preparations are complete to send the first batch of 12 cheetahs.
South Africa's Environment Department told Reuters that at present preparations have been completed to send the first batch of 12 cheetahs to India. These cheetahs will be sent to india in February. After this, according to the new MoU, 12 more leopards will be sent to india in the next 8 to 10 years.
మరింత సమాచారం తెలుసుకోండి: