Tragedy in Chennai..5-year-old# girl child died...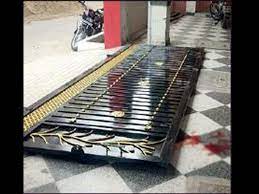 What happened to the Five year child?
Chennai residents are grieving over the death of a 5-year-old girl who was killed when an iron gate collapsed. 
Grief has been felt by locals in chennai following the loss of a 5-year-old girl from injuries sustained when an iron gate collapsed.
A 5-year-old girl:
In a private building in Chennai's Kilipakkam district, a clothing shop is open for business. shankar is employed as a watchman. Last night, his wife and their 5-year-old daughter, harini Sri, visited Shankar.
The small girl harini Sri was abruptly hit by the iron gate as she attempted to close it. The girl was brought to Kilpakkam government Hospital after suffering a critical head injury. While receiving critical care there this morning, harini Sri passed away.
In the meanwhile, a case has been filed in the first phase under two provisions. The cause of the accident is being looked into by Kilpauk police.
Nowadays we come across many accidents like this and it has been occuring in day to day life, unknowingly this 5 year child lost her life so the government should take the required actions to prevent similar mishaps in the future. Even parents need to be careful while taking kids out and should watch like an eagle eye.
మరింత సమాచారం తెలుసుకోండి: