Rahul Gandhi's thoughts on the budget of the Modi Govt?...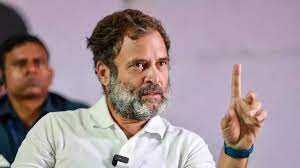 Congress leader rahul gandhi has surrounded the Modi government on the issue of Budget 2023. Finance minister Nirmala Sitharaman said at the beginning of the budget speech that this is the first budget of 'Amrit Kaal'. PM Modi also reiterated the same and emphasized on 'Amrit Kaal'. Now congress leader rahul gandhi has called it 'Mitra Kaal' and said that nothing was done in this budget on the issue of jobs, inflation and inequality. Earlier, congress leaders have also called the budget directionless and have raised many questions.
Rahul gandhi wrote in his tweet, 'There are neither many plans, nor any vision nor any desire to create jobs, combat inflation or end inequality in the friend period budget. 1 percent of the rich have 40 percent of the wealth. 50 percent poor pay 64 percent GST, 42 percent youth are unemployed but it doesn't matter to the Prime Minister. This budget proves that the government has no vision to make India's future.
Kejriwal's allegation – step-motherly treatment meted out to Delhi
Delhi cm arvind kejriwal also raised questions on the budget and said that injustice has been done to the people of Delhi. arvind kejriwal wrote in his tweet, 'There is no relief from inflation in this budget. 
Contrarily, 
this 
budget 
will 
cause 
inflation 
to 
rise. 
There 
is 
no 
established 
strategy 
to 
end 
unemployment.
 Unfortunate to reduce education budget from 2.64% to 2.5%. Reducing the health budget from 2.2% to 1.98% is harmful.
మరింత సమాచారం తెలుసుకోండి: