Aditi Rao's ex-husband married the daughter of a famous actress..!?

Satyadeep Mishra, who fell in love with and married actress Aditi Rao, has married the famous actress's daughter for the second time. While the wedding of Satyadeep Mishra and Masaba Gupta was done in a very simple way on january 27, the party organized by the couple following this was attended by some bollywood celebrities and close family friends.
As a confirmation, Satyadeep and Masaba posted it on social media and it went viral and is gathering likes among fans. He has been a costume designer and producer for many bollywood actors. While both Satyadeep and Masaba have been dating for the past few years, the two house parents have now tied the knot with the consent of their parents.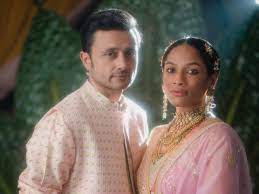 This will be the second marriage for them. Actress Aditi Rao fell in love with Sathyadeep Thisra and got married at the age of 21. Later, due to differences between the two, they got divorced after a few years of marriage. After the divorce, Aditi Rao is now in love with famous kollywood actor Siddharth.
From time to time, the photos of both of them going to publications in mumbai and participating in the special events of celebrity weddings, engagements, etc. are published on social media and become viral. Masaba Gupta also married famous bollywood film producer Madhu Mantena in 2015.
Later, the rift in the relationship between the two ended in divorce. Many bollywood celebrities and fans are congratulating the two divorced bollywood celebrities on remarrying.
మరింత సమాచారం తెలుసుకోండి: