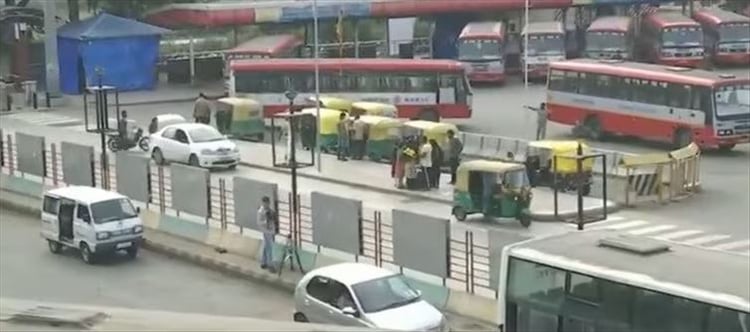 Tuesday's bandh has been called in Bengaluru in protest over Karnataka's supply of Cauvery water to tamil Nadu. The "Karnataka Jala Samrakshana Samiti," an umbrella group of farmers' groups and other organisations led by farmer leader Kuruburu Shanthakumar, has called for the bandh.

What is the Cauvery Issue?
For many years, a dispute has existed between tamil Nadu and karnataka about the distribution of water from the Cauvery river. The most recent incident occurred when the supreme court denied the karnataka government's appeal challenging a decision by the Cauvery Water Management Authority (CWMA) ordering karnataka to give 5,000 cusecs of water to tamil Nadu for 15 days starting on september 13. The karnataka government has said that it is unable to provide the water since it has agricultural and drinking water demands of its own.
• In response to the bandh, the Bengaluru police implemented Section 144 of the CrPC from monday at midnight to tuesday at midnight.
Additionally, the police have not authorised any processions in the city today. The police commissioner in Bengaluru stated that "no one can forcefully implement the bandh by using force, other than in cases where someone wants to observe it voluntarily." A total of 100 platoons will also be sent out to protect the city.


• Following the bandh, Dayananda K. A., the deputy commissioner for the Bengaluru Urban District, ordered a vacation for all city schools and institutions on Tuesday. The majority of the city's private universities and institutions had previously announced a break for
students
on Monday.
• The bandh call is unlikely to have any impact on Bengaluru's metro services, which would likely continue to run normally.
• The Bangalore Metropolitan Transport Corporation (BMTC) authorities claim that the bandh won't completely interrupt city
bus
services. Additionally, buses entering
tamil
Nadu are checked at the border between
karnataka
and
tamil
Nadu.
•
tuesday
will see regular operation for
ola
and
uber
services. Their group claims that they are opposed to Tuesday's bandh. Unions and groups related to the
car
and taxi
industries
have, however, endorsed the bandh on Tuesday. Due to misunderstanding, the Hotel Owners' Association has likewise decided to stop supporting the bandh for tomorrow. All hotels and restaurants will remain open, they said.
• Flyers are being urged to "plan their journeys accordingly" in light of the Bengaluru bandh, according to a statement from Bengaluru Airport.
indigo airlines
has also urged travellers to allow enough time for their
journey
to the airport.
మరింత సమాచారం తెలుసుకోండి: