5 documentaries in the last 50 years-Govt angry#P3...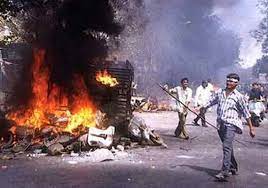 4. Final Solution also had a glimpse of the gujarat riots
Documentaries on the 2002 gujarat riots have been embroiled in controversies in the past as well. About 20 years ago, immediately after the gujarat riots, Rakesh Sharma made a documentary Final Solution on them. It featured interviews with victims and witnesses of the riots on both sides of the communal divide. The Central Board of Film Certification or the Censor Board banned this documentary, calling it provocative and expressed concern about inciting communal violence and increasing radicalization.
At that time there was a BJP-led nda coalition government at the Center and the chairperson of the Censor Board was Anupam Kher, who is considered a bjp supporter. However, the ban on this documentary was lifted later in october 2004 after the formation of the congress government at the Centre. After this, the documentary also won the National Award in the Special Jury Award (Non-Feature Film) category. Apart from this, it got a lot of discussion at many international film festivals.
5. Controversy over India's Daughter made on Nirbhaya gangrape
Another BBC documentary has also become a victim of controversies during the reign of prime minister Narendra Modi. This controversy took place in the year 2015 regarding Leslie Udwin's documentary India's Daughter. This documentary of BBC's Storyville series was shot in Delhi.
మరింత సమాచారం తెలుసుకోండి: