Al Minhad in dubai is being renamed "Hind City"...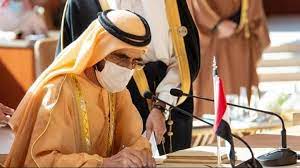 The name of a city in the United Arab Emirates (UAE), which is considered closest to india in the gulf countries, has been changed to HIND City. Sheikh Mohammed bin Rashid Al Maktoum, prime minister of the uae and ruler of dubai, on sunday ordered the renaming of Al Minhad city of his principality to Hind City. Due to this, a wave of happiness has spread in india as well. people are seeing it linked to the friendship between india and UAE. Although no official reason has been given by the uae government or the dubai government behind this new nomenclature, it is believed that the ruler of dubai has named it after his first Begum, whose name started called 'Hind'.
The area of 84 kilometres has been named Hind City
According to Emirates' official news agency WAM, the name of Al Minhad city and its surrounding area of about 83.9 kilometres has been changed to Hind City. It is divided into four zones. In these four zones Hind-1, Hind-2, Hind-3 and Hind-4 are houses of uae citizens. The city is very important, as it connects many of the country's major roads, including Emirates Road, Dubai-Al Ain Road and Jebel Ali-Lehbab Road.
The name of Sheikh Maktoum's first wife is Hind
Sheikh Mohammed bin Rashid Al Maktoum's first wife's name is Sheikha Hind bint Maktoum bin Juma. Both were married in 1979. 
Hind in Arabic means beautiful, courageous and fragrant
Hind means 'beautiful, courageous and fragrant' in Arabic. It has been used extensively in the names of women there for centuries. Apart from this, Hind also means 'convoy of 100 camels'. It is said that adding the word Hind to their daughter's name meant that the Arabs used to wish her a convoy of 100 camels as a gift. The word Hind for indians comes from Hindustani, which is a Persian word, but in the Arab world, it is written 'Al-Hind' and not 'Hind' for Hindustani.
మరింత సమాచారం తెలుసుకోండి: