Here we are going to tell you about the love story of Bollywood's lovely couple siddharth Malhotra and kiara advani, how the two first met, and how they fell in love. 
Bollywood stars kiara advani and sidharth malhotra are finally going to get married on 6 february 2023. Both are going to be married in Jaisalmer's grand 'Suryagarh Palace'. Both siddharth and kiara have reached Jaisalmer. As such, the internet is abuzz with speculations about the couple's wedding details and all the rituals. By the way, siddharth and kiara have just one day to get married, but till now both have not given any clear reaction about their marriage, but here we are going to tell you that the love of this most beautiful couple of 'Sher Shah' How the story started and how their love blossomed with time and now the matter has reached marriage. 
Everyone thinks that kiara advani and siddharth Malhotra first met on the sets of the film 'Sher Shah', but it is not so. kiara revealed in 'Koffee with karan 7' that she had met siddharth for the first time in the year 2018. kiara said, "We started talking. 
The news of sidharth malhotra and kiara dating first surfaced when they were spotted boarding a flight to South Africa. They had then signed dharma Productions' film 'Shershaah' and there were rumors that they would start the new year together in december 2019. At the same time, when different pictures of both of them surfaced, netizens noted that the pictures of both were from the same place. Then in this way, the news of the affair of both started arising.
Over time, kiara and siddharth started dating, but they never let anyone know about it. It was July 2021, when kiara advani shared a video on Instagram, in which her friends and family can be seen celebrating her birthday. However, a glimpse of sidharth malhotra was also seen in this video, after which those running #SidKiara were convinced that something is going on between the two. Kiara and siddharth were first seen together in the action OTT drama film 'Shershaah'. Their pairing was well-liked in the film. However, till then everyone was finding their love to be 'reel life chemistry' only. During the promotion of the film, some of their reels surfaced, seeing which their fans started seeing them as a real-life couple. However, even after the film's release when everyone was speculating that the two were in a romantic relationship off-screen as well, the two didn't react to their relationship rumors.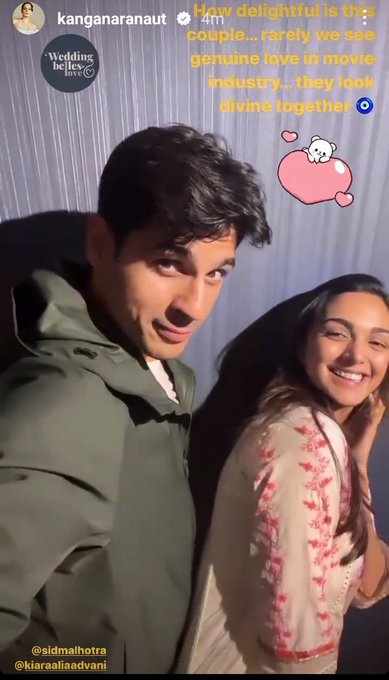 Siddharth and kiara never spoke anything about their relationship themselves, but ananya Pandey, who appeared as a guest in 'Koffee with karan 7', gave a hint of their relationship saying 'their nights are very long'. Please tell me that she was talking about the superhit song 'Ratan Lambiya' of the pair of 'Sher Shah'. Later, when sidharth malhotra guested on karan Johar's show, host karan asked him about his wedding plans, to which the actor replied, "It's all on my mind. Am disclosing this. When karan asked if he was announcing his marriage with kiara advani, Sid replied, "I wish you a bright future. It would be great if she (Kiara) is." At the same time, in 'Koffee with karan 7', kiara advani also revealed that she and siddharth are 'more than close friends'. Apart from these, shahid Kapoor, co-actor of his film 'Kabir Singh', who appeared on the show with kiara, also said that by the end of the year 2022, siddharth and kiara are going to make a big announcement and this is not a film. Since then the news had intensified that siddharth and kiara are going to get married in the coming time. manish Malhotra has designed 150 outfits for kiara Advani-Siddharth Malhotra's family, The time came in january 2023, when kiara finally posted a picture …
మరింత సమాచారం తెలుసుకోండి: