This star kid had started considering shahid kapoor as her husband, the actor complained to get rid of her
Once shahid kapoor was so fed up with stalking Vastavikata Pandit, daughter of veteran late actor Raaj Kumar, that he lodged an FIR against her. Let's tell.
Bollywood actor shahid kapoor had broken many hearts when he had an arranged marriage with Mira Rajput, a simple girl from Delhi. The 'Chocolatey Boy' of Tinsel Town made a mark in our hearts with his debut film 'Ishq Vishk' and went on to become one of the most sought-after actors of his generation. Over the years, shahid has made many girls fall for him because of his good looks and cute smile.
When shahid filed a police complaint against a Starkid. Shahid Kapoor has gained a huge fan base due to his attractive personality and tremendous acting skills. The bollywood sensation undoubtedly enjoys a massive female fan following and fans idolize her. However, there have also been some occasions when the fans crossed the limit. One such incident happened when shahid was stalked by a female fan, who was not just a commoner but the daughter of a bollywood veteran.
Late actor raj Kumar's daughter reality became crazy about Shahid 
It so happened that late veteran actor Raaj Kumar's daughter Vastavikata Pandit once made shahid kapoor uncomfortable. During Shahid's pre-acting days, they met in Shiamak Davar's dance class, where the two enrolled together. The reality was reportedly in love with shahid during that time. However, the actor had nothing in mind for her, which turned Reality's love into an obsession, resulting in Reality stalking Shahid.
Hence, in 2012, shahid kapoor filed a police complaint against Reality, alleging that Reality used to follow him wherever he went. From following him on film sets to stopping him when he went out and sitting on the bonnet of his car, reality tried to tell him that she was his biggest fan. However, she crossed all limits when she started living in the house next door to Shahid's house. Not only this, she started presenting herself as Shahid's wife in front of the people of the neighborhood. However, when shahid filed a police complaint against her, she went on the run.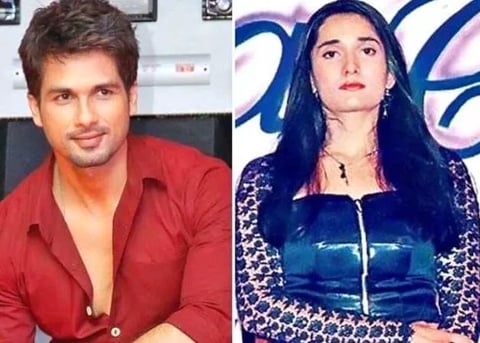 Vastavikata Pandit followed in the footsteps of his father Raaj Kumar and tried his luck in films as well. She made her acting debut in 1996, but her first film flopped at the box office as her performance was not very good. Despite her continuous efforts, she could not succeed in making her place in the film industry. What is surprising is that she did not succeed even after using her father's name and fame. Unfortunately, being the daughter of a great actor, reality failed miserably.
On the personal front, shahid kapoor is happily married to his wife Mira Rajput Kapoor and the couple has two children, Misha Kapoor, and Zain Kapoor. At present, shahid is happy in his life.
మరింత సమాచారం తెలుసుకోండి: