Is the moment fixed for varun Tej's engagement?

It is known that there have been reports regarding the marriage of Mega prince Varun Tej for some time now. varun Tej is rumored to be in love with heroine Lavanya Tripathi for some time now. But this time their engagement is really going to happen. Lavanya is also rejecting the offers coming to her for this marriage. In this order, it seems that the mega family has given a green signal for their marriage. According to close sources, their engagement will take place on june 9 this month. All mega heroes want to be present in this engagement.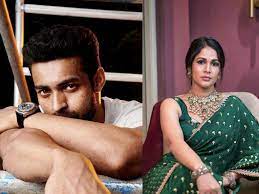 That is why it seems that megastar chiranjeevi has selected this day so that ram Charan's dates are convenient for all of them. It seems that power star pawan kalyan is also likely to attend this engagement. There is a possibility that the wedding date will be announced today. On the occasion of Lavanya's birthday last year, varun also participated in a party with friends in Bengaluru. At that time, it seems that varun gave her a diamond ring and proposed marriage. It is noteworthy that their marriage has received a green signal so far.
But the two met during Mr. Movie. This movie was released in 2017 and was directed by Srinuvaitla. It seems that love blossomed between them during this movie. Even if the movie was not a hit, it is remarkable that the chemistry between the two worked out. After that, both of them were seen as a couple in space. Lavanya is a young woman from Uttar Pradesh who was introduced to the telugu screen with the movie Andala Rakshasi. Currently, varun Tej is doing two films. One of them... 'Gandhiwadari Arjuna' directed by praveen Sattaru. Another... aviation thriller. It is being produced by sony Pictures.

మరింత సమాచారం తెలుసుకోండి: