Dhoni disappointed by Vijay due to this reason..!?

Dhoni has achieved many achievements in cricket and has countless fans. Because of that, now he is turning his attention towards cinema. In that way, now he has started a production company and successfully launched his first film. Titled LGM, the film is directed by Ramesh Tamilmani. The shooting of the film, which stars Harish Kalyan, Nadia, Ivana, and many others, is currently going on in full swing. Even recently, the makers released the first look poster of the film. Although many attempts have been made to bring the film to the fans, the only question that everyone has is why dhoni did not make the film with the big hero. Because if he is very popular if he is making a film, no actor will say that he will not act.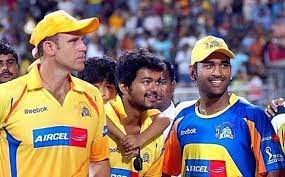 In such a situation, many people were questioning why she should choose Harish Kalyan. But dhoni actually wanted to make a film with Vijay. He is also making efforts for that. But the benefit itself has gone to zero. That is, Vijay has given a warm welcome to dhoni who came to meet him. But when talking about the production of the film, he said that he will think and say it. But after that, dhoni did not get any positive response from him. Realizing that there is no point in waiting any longer, dhoni has abandoned the decision to make a film with Vijay.
 However, after completing his current film LGM, he has made a plan to make a film with a top hero next. It is noteworthy that the work for that is also going on.
మరింత సమాచారం తెలుసుకోండి: