Tamannaah's boyfriend embarrassed to do those scenes..!?

Bollywood actor, Tamannaah's boyfriend vijay varma made interesting comments. His comments about bollywood star senior heroine kareena kapoor are currently going viral. Nowadays, no matter how big the stars are, no matter how small the artists are, they don't believe in only one film. Showing multi-talent, along with movies, he is also doing web series. It is also being distributed through other programs. With the wide spread of OTTs increasing day by day, stars like kareena kapoor are also showing interest in doing web series.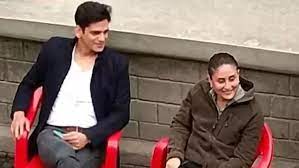 As expected, Bollywood's senior beauty kareena kapoor is coming to the audience with a new web series. This web series was created with the name Jaane Jaane. This web series will soon be streaming on Netflix. Sujay Ghosh has directed this series which is being made in the crime thriller genre. kareena kapoor played the lead role in this series, and bollywood actor, Tamannaah's boyfriend vijay varma, and jaideep ahlawat played pivotal roles.
The team is busy with this web series promotions. Consecutive events. Recently, the film crew participated in an interview as part of the promotion of this web series. On this occasion, actor vijay varma made interesting comments about Kareena Kapoor. She is described as a wonderful actress. She is a good-hearted person. On this occasion, they once told how they enjoyed watching Kareena's movies. They used to watch her movies and blow whistles. They used to consider her as their favorite heroine. Now he is happy to act with her. He said that acting with her in romantic scenes was very scary. He said that he used to get shivers in his body while doing sex scenes with her. She can act amazingly. vijay varma commented that as beautiful as she is, she is calm beyond that. vijay varma is currently dating Tamannaah. Both of them are walking around wearing wooden rails. There is a rumor that they are going to get married soon. But there is another argument that their relationship is only dating.
మరింత సమాచారం తెలుసుకోండి: