Tina Ambani wished 'daughter-in-law' Khrisha on her birthday in a loving way, wrote a lovely note
Businesswoman Tina Ambani has wished her daughter-in-law Krisha Shah a loving birthday on May 5, 2023, and also shared some unseen family photos.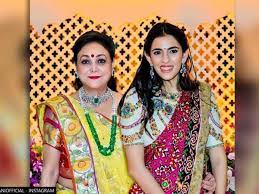 Tina Ambani , wife of businessman anil ambani , is a well-known businesswoman of India, who has been a famous actress of hindi cinema. Although, Tina had given up acting career after marrying anil ambani, but being an active social media user, she continues to share special moments of her life with fans and wish her family members on their special day. Don't forget Recently, he has wished his daughter-in-law Krisha Shah on her birthday in a lovely way .

Tina Ambani wishes her daughter-in-law Krisha on her birthday
On 5 May 2023, Tina Ambani shared some pictures from her instagram account and congratulated her daughter-in-law Krisha Shah on her birthday. The first photo was a single pic of Krisha, in which she was looking very cute in a simple look. Whereas, in the second photo, Krisha was posing for the camera with her husband jai Anmol Ambani. In the third picture, the birthday girl can be seen with her parents-in-law Tina and Anil.


However, it was her last picture that grabbed our attention. In this photo, the entire family of anil ambani was seen together in one frame. During this, Tina and anil ambani looked very happy as they posed for the cameras. Whereas, jai Anshul Ambani, Krisha and Anmol also looked adorable as they posed with their entire family.



Along with these pictures, Tina Ambani also wrote a lovely note wishing her daughter-in-law Krisha on her birthday. In his note, he wrote, "A wise woman, a powerhouse of ideas and innovation, an explosion of energy and light in the house and the most loving daughter." Happy birthday darling Krisha... So proud of you and glad you're ours. @anmolaambani @khrishaambani
When Tina Ambani wished her son-daughter-in-law on their anniversary
Earlier, on february 20, 2023, Tina Ambani had wished her son Anmol Ambani and his wife Krisha Shah on their first wedding anniversary in a lovely way. On his instagram handle, he shared a series of pictures of son Anmol and daughter-in-law Krisha. In the first picture, the lovebirds could be seen happily posing for the camera. In the photos, the couple was looking very beautiful in their respective outfits.

మరింత సమాచారం తెలుసుకోండి: