'Kasauti Zindagi Ki 2' fame erica fernandes left india and settled in dubai, this is the reason
Popular tv actress erica fernandes has left india and shifted to Dubai. 'Kasauti Zindagi Ki 2' fame erica fernandes left india and settled in dubai, this is the reason
Actress Erica Fernandes, who has worked in tv serials like 'Kuch Rang Pyar Ke Aise Bhi' and 'Kasautii Zindagii Kay 2', has left india and shifted to Dubai. However, she will keep coming to india in connection with work.
Erica opened up about her shift from india to dubai and told that she has taken this decision for her growth. The actress said, "I was looking for growth. It's not about how much work you've done. It's about what next? I was feeling a little stunted in my growth. I wanted to do and achieve more. So I needed to take the next step. So I made this decision. There is a lot happening here.'
Describing dubai as her home, Erica adds, "Dubai has always been home. So I would not say that it is out of my comfort zone. I have family here, so the thought of living here didn't scare me. However, I will keep coming to india for my work commitments."
The 30-year-old actress said, "When you move to another country, it is a learning process. dubai is a beautiful place for many reasons. It is a global hub where we have different nationalities under one roof. We get to know about different world cultures by living in one country. The infrastructure is superb. My experience of the last few months as a resident has been great."
Keeping in mind her work commitments, Erica keeps on coming to India. To this she says, "I am doing it with ease so far and I find it is faster for me to reach the set from dubai to mumbai than from Goregaon to Naigaon."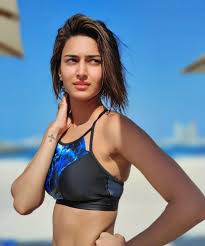 When Erica was asked if living in dubai would she refrain from taking up long-term projects? So in response Erica said, "Never, but I intentionally did not take up some long term projects as I wanted to explore different platforms which are short term."
For information, let us tell you that Erica was very much liked with Shaheer Sheikh in 'Kuch Rang Pyar Ke Aise Bhi'. Apart from this, she played the character of 'Prerna' in 'Kasauti Zindagi Ki 2', in which her chemistry with Parth Samthaan proved to be a huge hit. When Parth Samthaan broke his silence on the relationship with Erica Fernandes,
మరింత సమాచారం తెలుసుకోండి: