Falaq Naaz said- 'I don't think I will ever separate from Avinash', talked about bonding with the actor
Recently, tv actress Falak Naz has talked about her relationship with actor avinash Sachdev. Let us tell you what he said.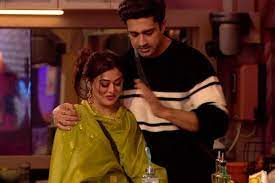 The friendship of tv stars Falaq Naaz and avinash Sachdev has been in the headlines since their participation in 'Bigg Boss OTT 2'. Both of them remained good friends from the beginning of the show. However, their friendship took a new turn when avinash expressed his feelings for Falak. Now, Falak has opened up about her bonding with Avinash.
 Falak Naz opened up about her relationship with avinash Sachdev. The actress said that they have a very good understanding with each other and they do not need to explain their views to each other. Furthermore, Falak said that she never feels like separating from Avinash.


In his words, "We have a very good understanding. I feel like I'm the only person who can make them laugh. When we are together, we have a lot of fun. Our bonding is very good because we understand each other well. We don't need to explain much to each other. I don't think I will ever separate from Avinash. Let's see how this friendship progresses in life."

When avinash revealed that his feelings for Falak are not fake
Earlier, in one of his interviews with 'Hindustan Times', avinash Sachdev had talked about his feelings for Falak Naz. The actor had told that his feelings for Falak during the show were not fake or scripted. He revealed that after coming out of the show, he also attended a small dinner with Falak and his family.


When avinash denied being in a relationship with Falak's sister Shafaq
Let us tell you that as soon as the news of avinash Sachdev confessing his feelings for Falak Naz came out, people immediately said that earlier the actor had also dated Falak's sister Shafaq Naz. However, avinash had denied dating Shafaq in his previous interview with 'India Today'.

He had said, "No, I have not dated his (Falak's) sister. We did a show together. It was a romantic television show on Star Plus. Our chemistry was really rated high and that telefilm got the highest ratings at that time. This incident happened 11 years ago i.e. 2012. If it had been this kind of scene, it would have been highlighted by then. Nothing is hidden in our industry. Why is this coming out now?"


Let us tell you that later Shafak expressed displeasure over this statement of avinash and said that how could he deny our relationship, even though they had dated for 6 months.

మరింత సమాచారం తెలుసుకోండి: