Custody in OTT..!? Risk of Loss..!?

Naga chaitanya starrer ``Custody'' released on Friday. It gets negative talk from the beginning. The latest OTT details are doing the rounds. Bad time runs for Akkineni's heroes. Nagarjuna, akhil and naga chaitanya starrer films are rolling. Chaitu starrer ``Custody'' is very confident. He was so confident that he was going to hit for sure. Everyone on the team saw the same. Chaitu was also very excited. But the result made the difference. ``Custody'' released on friday got a negative talk from the first game. At least there are no openings. Produced by tamil director venkat Prabhu, the film stars Kriti Shetty opposite naga Chaitanya. Aravinda Samy, Priyamani, and sarath kumar acted along with them. No matter how much star casting is added there is no point. The roles in the film have changed, but not a plus.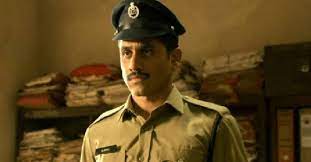 In this, Chaitu impressed as a police constable. He tried his best. His performance is impressive. It is interesting to know in which OTT this movie will be released. The OTT rights of this movie have been acquired by the famous wallet PLATFORM' target='_blank' title='digital-Latest Updates, Photos, Videos are a click away, CLICK NOW'>digital company Netflix. It is reported that the rights have been acquired at a huge rate. In recent times, if films receive negative talk, they are released on OTT within a month. Films like ``Shakunthalam'' came out like that. Now it is known that naga Chaitanya's ``custody'' is also coming soon. It is reported that the film is likely to be streamed on OTT at the beginning of next month.
Meanwhile, the film 'Custody' has sold at a good rate in terms of theatrical and OTT. The producers are in the safe before the release. Theatrical rights were sold for around 23 crores. According to trade sources, on the first day, 4 crore gross and 2 crore shares were received. But it is noteworthy that the makers have declared 7 crores gross and 3.5 crore share. According to the actual calculations, the buyers who bought this movie are likely to lose heavily. More than half are at risk of losses.

మరింత సమాచారం తెలుసుకోండి: