Crackdown on Child Marriage: Suicide&Protests...
Assam chief minister Himanta Biswa Sarma is running an arrest campaign against those accused of second marriage. The bharatiya janata party (BJP) government led by him is monitoring and cracking down on thousands of cases of child marriage in the state. The police is arresting 'husbands' and their relatives on charges of child marriage. The girls are being rescued from their in-laws and the accused are being handcuffed. Girls have taken to the streets against this decision of the assam government. women are protesting in Assam. In assam, politics has been ignited on this issue.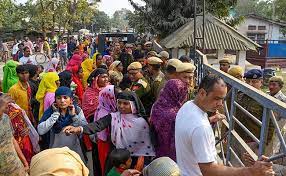 So far, more than 2,000 people have been arrested in assam for illegally marrying minor girls. chief minister Himanta Biswa Sarma has said that action against child marriage will continue in the state despite massive protests by citizens.
The assam government has said in its official statement, 'In the crackdown on child marriage, more than 2,250 people have been arrested in the state till Saturday. A total of 2,258 people have been arrested so far on the basis of 4,074 FIRs registered against child marriages across the state.
Wives troubled by government action
Several media reports have said that a girl in assam committed suicide in the midst of action against child marriage. The girl was a minor at the time of her marriage, she feared that her father might be arrested for getting her married. The girl who committed suicide has two children. Her husband had died during the Covid epidemic. In Golakganj, a woman created a ruckus at a police station and threatened to commit suicide if her husband was not released. Her husband was arrested on charges of child marriage.
మరింత సమాచారం తెలుసుకోండి: