Nayan & Vikki cant forget AK 62's insult..!?

Vignesh Shivan's film AK 62 was announced to be directed by vignesh shivan in march of last year. In that announcement, it was mentioned that Lyca company is going to produce Ajith-Vignesh Shivan's film and Anirudh is going to compose music for the film. But that alliance eventually fell apart. When the shooting was about to start, vignesh shivan was suddenly removed from the film.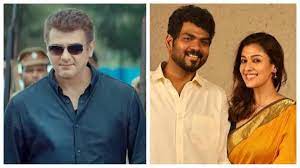 As ajith was not satisfied with the final script written by vignesh shivan, Lyca dropped him from the film and replaced him with director Magizh Thirumeni. Currently, he is busy with the preliminaries of AK 62. The announcement about the film is also in a day or two. They are going to start shooting soon.
Meanwhile, it has been a year since the announcement that vignesh shivan is going to direct AK 62. Knowing this, vignesh shivan has expressed his apprehension by posting the lyrics he wrote for the film Nanum Rowdy Than. In the song Kannana Kanne from the film, there is a line that says 'What is found is lost, what is lost is found'.
Although the opportunity for AK62 slipped away, lic film which was dropped a few years ago will be created again. Vicky has hinted that he is currently preparing to direct the film. pradeep Ranganathan is said to star in Vignesh Shivan's next film.
మరింత సమాచారం తెలుసుకోండి: