Happy Birthday to the Legends mani ratnam, Ilaiyaraaja!!!
Both prominent figures in South cinema, director mani ratnam and composer Ilaiyaraja, celebrate their birthdays on june 2. mani ratnam was born in 1956, and Ilaiyaraaja in 1953. Beginning with the director's first movie, Pallavi Anu Pallavi (1983), and concluding with Thalapathi, after which mani ratnam began collaborating with AR rahman on his debut music for Roja (1992), they have worked together on 10 films.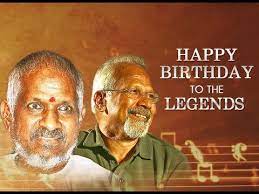 Let's look at some of the groundbreaking film albums the two of them worked on in honour of their birthdays.
Unaru, a 1984 malayalam film starring mohanlal Mani Ratnam's second movie is called Unaru. This is the tale of a group of employees who disobeyed their union officials to aid in the construction of a new factory. 'Deepame' and 'Theeram thedi olam padi' are two of the movie's well-known songs. 
In the 1988 tamil film Agni Natchathriam, two half-brothers who contend that they are the sons of the same father engage in fight with one another. The music on this album was incredibly progressive for an album released in 1988. Agni Natchathriam ended up setting trends for introducing synthetic pop and electronic funk to tamil music audiences.
Nayakan (1982, Tamil): Ilaiyaraaja adhered to his tried-and-true formula of blending Carnatic, folk, and robust Western orchestration. The album's centrepiece is Thenpandi Seemayaile, which is performed by both Ilaiyaraaja and Kamal Haasan, the lead actor in the movie. The Chitra and mano song Nee Oru Kadhal Sangeetham has a particular place in the hearts of millions of listeners.
మరింత సమాచారం తెలుసుకోండి: