India's Worst train Accident... Questions Arise..!?

More than 200 people lost their lives in a train accident in Odisha's Balasore at around 7 pm on Friday. More than 900 people were injured. The Coromandel Express, which was coming from kolkata to Chennai, derailed in Odisha's Balasore district. It is said that about 12 coaches of this train collapsed and fell on the opposite track. Following this, the oncoming Bengaluru-Howrah Superfast Express derailed and collided with the coaches of the Coromandel Express. It is said that 3 to 4 coaches of the Bengaluru-Howrah Superfast train derailed.
Along with these 2 passenger trains, a third freight train also crashed. It is considered one of the worst train accidents in the history of train accidents as 3 such trains were involved in the accident. indian Railways has officially announced that 238 people died in this terrible train accident. More than 900 people were injured. The death toll is feared to rise further as rescue operations continue. However, the biggest question is how 3 consecutive trains got stuck within a certain time. How is it that when one train derails first, another train collides with that train? Were the railway officials not informed about the train derailment? Who will be responsible for this? The biggest question is how the 3rd freight train was involved in the accident after 2 consecutive accidents.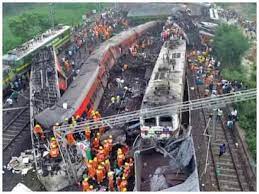 Since this train was coming to Chennai, the tamil Nadu government is also involved in rescue operations as Tamils may have traveled in this train. A team consisting of Transport minister Sivashankar and sports minister Udayanidhi stalin has left. Initial reports suggest that 35 Tamils have died in this accident. Meanwhile, Union Railway minister Ashwini Vaishnav visited the odisha train accident site in Balasore. He also announced that a high-level committee would be constituted to investigate the incident.

He said the focus would be on rescue operations and ensuring adequate medical assistance to the victims, adding that the Railway Safety Commissioner would conduct an independent inquiry. After the permission of the district administration, the renovation work will start. A detailed high-level inquiry will be conducted. The minister said that rescue operations were started shortly after the news of this tragedy was received by his ministry. indian Railways said that the investigation will be conducted under the chairmanship of the Railway Safety Commissioner of South east Circle, AM Chaudhary.

మరింత సమాచారం తెలుసుకోండి: