Adipurush's telugu dubbing was ignored..!?

Just two more weeks left for Adipurush 3D to hit the theatres. The Prabhas-Omraut team has already fully focused on the promotion of this movie. Especially in the North, they are doing all-out campaigning to make this movie a blockbuster. Based on the epic Ramayana, people are eagerly waiting to watch the greatness of Lord Rama, the background of Goddess Sita, and the battles of Lord Rama with the help of the monkey army in 3D. However, the Adipurush team has made some mistakes that should not have been made and is getting criticized unnecessarily. We are already seeing memes going viral on many campaign tweets where mistakes are written without taking care of the telugu language. Some telugu lines can mean any lyrics or caption or anything else. Why are all these always written wrongly?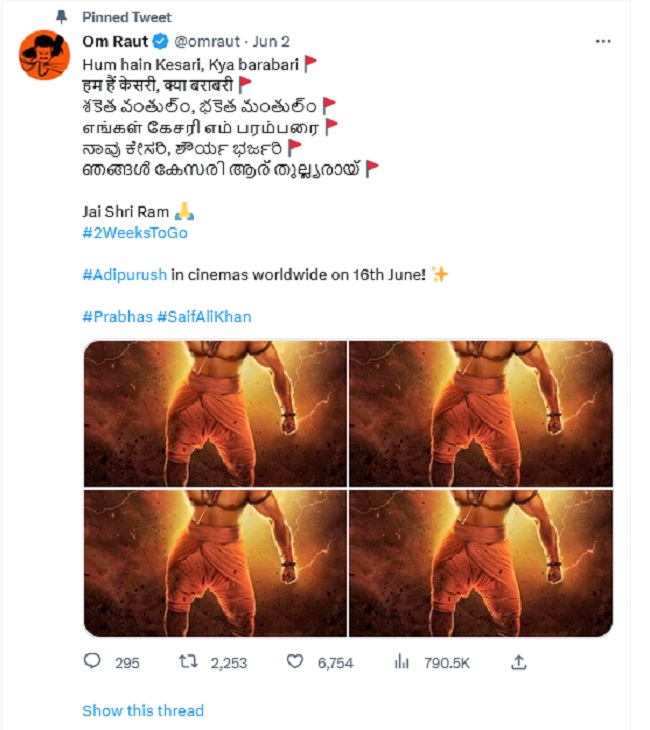 Recently, netizens threw punches at Om Raut's tweet when the lines "Shaktivantulam.. Bhaktivantulam" were wrongly written. Is it correct to write correctly in hindi and write mistakes in Telugu? It creates false impressions. It's easy for people to find any mistakes in a campaign. Earlier, the Adipurush team was caught like that in the case of the teaser. But Omraut became very alert when the harsh criticism came. It took many months to fix it with the trailer.
There are rumors that the budget for Aadipurush 3D is around 450 crores. But even after doing all this, it is not possible to avoid errors in wallet PLATFORM' target='_blank' title='digital-Latest Updates, Photos, Videos are a click away, CLICK NOW'>digital advertising. If a proper linguist is requested to write the lines in telugu, who would say no? It is considered negligent to write Hindi-English 100% correctly and take telugu lines lightly. Didn't focus on hindi dubbing and mistakenly ignore telugu dubbing? There is a doubt. Prabha's voice is very serious. If it is used in the right way it reflects the heroism of Sri Ram. The trailer revealed Kriti in the role of Sita. Saif in the role of Ravana is set well.

This pan-India movie should collect 500 crore net or share in Hindi. At least 200 crores share should be collected in Telugu. Overall 300 crores should be collected including neighboring countries and overseas. This means that one has to be very careful about advertising including dubbing. Prabhas' range is over 1000 crores pan india inclusive of all languages. So let's hope the Omraut team is careful not to make any mistakes.

మరింత సమాచారం తెలుసుకోండి: