Minister Roja Strong counters Mansoor's vulgar comments..!?

It is known that actor Mansoor ali Khan played a pivotal role in the movie Leo. Recently, the actress Roja lashed out at Mansoor Alikhan. lokesh Kanakaraj and Thalapathy Vijay's combination Leo was released a few weeks back and it seemed like no big deal. Regardless of the talk, the film has collected well. The film stars trisha opposite Vijay. Both acted wonderfully as husband and wife. It is known that actor Mansoor ali Khan played a pivotal role in the movie Leo. Mansoor acted as a key figure in Antony Das's gang. He acted as Leo's follower. Recently, Mansoor ali Khan made a lot of indecent comments about Trisha.

He commented that he was disappointed that he did not get a chance to rape trisha in the film Leo. When trisha was told that she would act in the film, he thought there would be a bedroom rape scene with her. He acted in rape scenes in many films. Nothing new to him. He thought there would be a scene where trisha was carried into the bedroom by his arms. But he commented with a wry smile that he didn't have any real scenes with trisha in this film.

A big uproar started over this. One by one, female celebrities strongly condemned Mansoor's comments. Recently, the actress and minister Roja condemned Mansoor ali Khan. Cases are filed against men who talk rudely about women. Strict legal action should be taken and strict punishment should be given. Otherwise, these men are not afraid.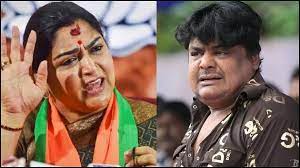 Be it the tdp MLA who attacked her, be it Mansoor ali Khan who made comments on trisha, Khushboo, anyone should be punished severely. In this way, no matter how much we are targeted, we have grown up in politics and movies. Roja made hot comments saying that you can't imagine what the situation would be like if such men met ordinary women. It remains to be seen how far this controversy will go.

మరింత సమాచారం తెలుసుకోండి: