Team of wheelchair users celebrates yoga Day!!!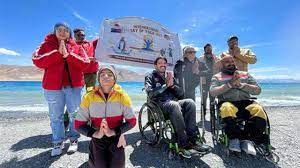 On the occasion of international yoga Day, yoga programs were organized in different parts of the country. A group of wheelchair users did yoga at an altitude of 14,300 feet to make people aware and encouraged about yoga. This team of six people did yoga near Pangong Lake in Ladakh. To reach here, these people used wheelchairs and modified hand-operated cars and traveled 2000 km.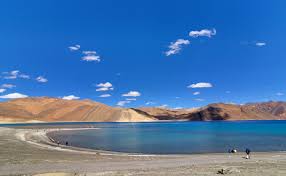 This team told that to promote Divyang cricket in india, this team did yoga near Pangong Lake. Apart from Prayag Arogya Kendra founder Yogacharya prashant Shukla, Babita Maurya and archana Patel were also in this team. Apart from these, some officials associated with Divyang cricket in india also reached for Yogasan. On this occasion, the players of the wheelchair cricket team also joined online and did yoga.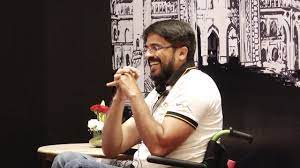 Disabled cricketers and officials also participated
Ravikant Chauhan, a member of BCCI's Divyang cricket Committee, attended the event online. Apart from them, many players and officials associated with Wheel Chair cricket and Divyang cricket also participated in the event through online medium. Squadron leader Abhay Pratap Singh (Retd) said, 'We Divyangjans started this journey from lucknow and it lasted till Ladakh. We used cars to cover more than 4000 kms.
Abhay Pratap Singh says, 'We are taking out this yatra for the purpose of spreading awareness about the disabled. Today our team reached Pangong Lake and here we did yoga at an altitude of 14,300 feet. To encourage our team, the players and officials of the wheel chair cricket team participated in this event online.
మరింత సమాచారం తెలుసుకోండి: