Will parineeti chopra have a winter wedding in rajasthan like her sister Priyanka? Details came in front
Recently, actress parineeti chopra and her husband-to-be Raghav Chadha were spotted scouting for a wedding venue in Rajasthan. Now the latest information about their wedding plans has come to the fore. Let's tell.
Bollywood actress parineeti chopra and 'AAP' leader Raghav Chadha have been making headlines since their engagement. After dating rumors, the love birds finally put an end to the speculations and made fans happy by officially announcing their engagement on 13th May 2023. 
The two exchanged rings in the presence of close friends and family members. Recently, Parineeti and Raghav were spotted in rajasthan scouting for the wedding venue. Now, the latest reports suggest that they are planning a royal wedding in rajasthan between september and november this year.
Revealed about Parineeti Chopra-Raghav Chadha's rajasthan wedding 
Earlier, it was reported that Parineeti had gone to udaipur alone and stayed at 'Leela Palace' (Udaipur). She also went to (Udayavilas) where her family members and relatives were staying. The actress also met the Deputy director of the Tourism Department to get information about tourist places and hotels. Now 'Hindustan Times' spoke to Shikha Saxena, Deputy director of the Tourism Department udaipur, and gave exciting information about Parineeti's visit.
Shikha told in the interview, "I met Parineeti at the airport, where we had a nice 20-minute chat, after which we spent the day visiting her at the venue. She was not directly talking about marriage, but The conversation revolved around the things that indicated it." He further revealed that Parineeti was also inquiring about the weather in Udaipur. He said, "She was asking about the weather in udaipur when the monsoon start, and when winter starts. She had september in her mind. I told her that here the monsoon comes late, so till the last week of september It will rain." At that point, he looked at his PA and noted down the information."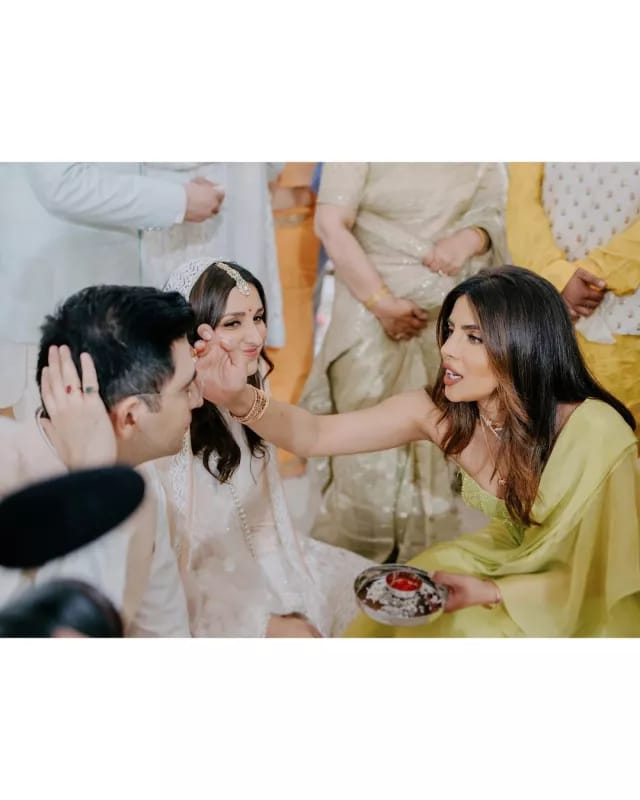 Parineeti Chopra and Raghav Chadha will do a winter wedding
Reports suggest that the love birds are expecting to tie the knot in November. Shikha said that she had suggested the month of november, but Parineeti's PA was hesitant as the weather was too cold. When Shikha asked Parineeti if she had any marriage plans, the actress denied it. Parineeti wanted to know more about city tours for her guests to visit during the wedding. Saxena revealed that he loved the way the actress was being welcomed at the Rajshahi palace with rose petals and music. Parineeti also talked about the food she had during her travels. Looks like the couple is all set to follow in the footsteps of priyanka chopra and Nick Jonas. They too got married in a grand way in Rajasthan.
Parineeti Chopra and Raghav Chadha's engagement
Talking about the couple's engagement outfit, for their engagement ceremony at Delhi's 'Kapurthala House', Parineeti opted for a soft-pink shade silk kurta set with embellishments including pearls, sequins, and embroidery. Raghav, on the other hand, looked dapper in an ivory bandh gala suit. Sharing her engagement photos after the engagement, Parineeti wrote in the caption, "Jo chaha, woh pura ho gaya... I said 'yes'."
మరింత సమాచారం తెలుసుకోండి: