Pan india movie with Vijay-Ajith combo?

Actors Vijay and ajith have acted together in only one film, raja Vin Paarvaiyile. After that Vijay and ajith never acted together. Vijay and ajith are known by fans as opposite poles in terms of cinema. Thus it has become almost impossible for the two to act together. But some directors are ready to shoot the two together. director venkat prabhu in particular is showing more interest in this.
Vijay even planted the seed for this. Vijay has invited venkat prabhu to the party for the release of Mankatha starring Ajith. The matter did not end there. Vijay said that if he had been told about the role played by arjun in Mankatha, he would have acted in it himself. This has shocked venkat Prabhu. Following this, venkat prabhu has said on various occasions that he is ready to direct a film with a Vijay-Ajith combo.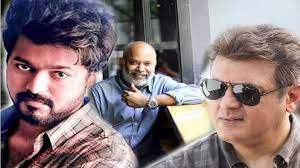 It has been rumored for the last 2 days that Vijay and ajith will be co-starring in venkat Prabhu's direction and an announcement will be made soon.
Many people are spreading this information on social networking sites. In this case, the new information has come.
Accordingly, this information is not true. It is said that venkat prabhu has not met Vijay or ajith regarding the film and he has not written the story for the film yet. According to venkat Prabhu, he is directing a film with naga Chaitanya. This will be the first telugu film directed by venkat Prabhu.

మరింత సమాచారం తెలుసుకోండి: