Agent who comes to sideline Trisha..!? Unique character..!?

The talk about Thalapathy 67 has been spreading on the internet for the past few days. Because lokesh and Vijay team up for the second time in Thalapathy 67. Apart from that, the expectations for this film among the fans are many times higher than for other films. But the team of Thalapathy 67 has been showing everything openly without giving any suspense to the fans. In that way, the pooja video of the movie Thalapathy 67 was released recently. Following this, the production company also released the name of the main characters in the film.

In this case, Thalapathy 67 will feature an unexpected character. Thus, it is said that his character will be more important than the heroine of the film, Trisha. In other words, Agent Teena was the one who won the appreciation of the fans even though she only acted in a few scenes in the film Vikram.
 Vasanthi played the role of Agent Deena in Vikram. He has worked as an assistant to dance masters in cinema for more than 30 years. It was lokesh who gave her an opportunity to act as an actress in vikram for the first time. Following this, Vasanthi is getting more film opportunities.Now the crew has gone to kashmir for the shooting of Thalapathy 67.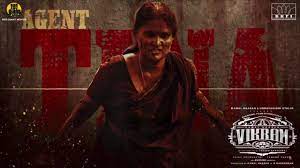 The production company has released the video of the flight. Fans have confirmed that she will be acting in Thalapathy 67 as it also featured Agent Deena. As the song sequences of Thalapathy 67 are being shot in kashmir, there is also a doubt whether Vasanthi is going to assist the choreographer Dinesh Master. But it is being talked about in the kollywood circles that Vasanthi is more likely to play a role that surpasses Agent Tina in Thalapathy 67.
మరింత సమాచారం తెలుసుకోండి: