Did you notice this? Lokesh's mass plan on 'Leo'..!?

Thalapathy Vijay, lokesh kanagaraj, tamil cinema News, Thalapathy 67 movie title and release date has been announced, but the information has come out that the movie is scheduled to release on october 19th. After the release of Kaithi, lokesh Kanagaraj's films are highly anticipated among fans. While lokesh kanagaraj has been fulfilling the expectations of the fans to the best of his ability, vikram has surpassed all the films he has directed so far.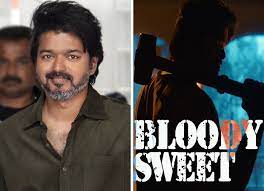 After the success of 'Vikram', Thalapathy Vijay was confirmed to direct it, a few days ago, 7 Screens Studios, the official producer of 'Leo' released a statement. In this, the names of technicians, music composers, directors, etc. who will be working in the film have been mentioned and it was said that the announcement about the actors and actresses will be released soon. Following this, the official information was released that trisha will act opposite Vijay in the film. It was also reported that bollywood actors Sanjay Dutt, priya Anand, gautham Menon, Action king Arjun, Mansoor ali Khan, and others will play the main role. Today, it was reported that Vasanthi, who played the role of 'Agent Tina' in the action film Vikram, has also committed.
Despite the doubt that the film is based on LCU due to the involvement of so many celebrities, lokesh said in a recent interview that it was made only as Thalapathy Vijay's film. Unexpectedly, the film crew named the film Leo. Similarly, Thalapathy has threatened to make chocolate on one side and a sharp tail on the other in the promo itself. In the already released information, it is mentioned that Vijay is acting as a gangster in the film. And with the promo released today, the release date of 'Leo' has also been announced. While the film was expected to release on Diwali, now it has been announced that it will be released during Saraswati Puja.
The film crew has announced this too with a mass, that is, from october 19, there will be 6 consecutive days of holidays. As days like Saraswati Puja and vijayadashami are coming, 'Leo' is celebrating this day by making a sketch. Currently, the film crew is shooting in kashmir by private plane. It is noteworthy that a video of this was released and went viral on social media.
మరింత సమాచారం తెలుసుకోండి: